Order This Book

Next

Book Index

Back to Homepage
---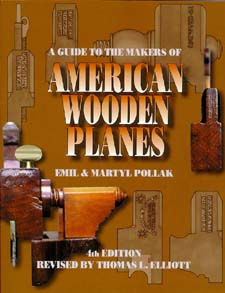 A GUIDE TO THE MAKERS OF AMERICAN WOODEN PLANES, 4th Edition
by Emil and Martyl Pollak
A Guide to the Makers of American Wooden Planes profoundly transformed the emphasis and direction of tool collecting. Since then, it has been the definitive guide to American planemakers, from the earliest individuals who worked before the Revolutionary War to the last few manufacturers of the twentieth century. Now, after several years of meticulous research, a new edition of this extraordinarily influential reference book is available.he last few manufacturers of the twentieth century. This 4th edition, completely revised by Tom Elliott, reflects the tremendous amount of information on planemakers that has come to light since the last edition. Included are: over 4000 biographical entries, over 5000 imprints, almost 2700 wedge outlines, and almost 3000 individual ratings for judging relative scarcity and value. This represents twice as much information as the 3rd edition. Simply by comparing the name struck on the front of the plane with the name and imprint illustrations in this Guide, the reader can easily determine the plane's age and its place in the history of planemaking. The book also includes:
A star system that indicates the rarity of over 1500 of the imprints illustrated
A section "What's a Plane Worth?" that provides insights helpful in buying and selling.
A geographic directory that lists planemakers by the state and city in which they worked; this helps to identify planes and provides a checklist for regional collecting and research.
An illustrated glossary of plane terms and styles.
A short history of planemaking in America.
An extensive bibliography for help in further research.
480 pages. Over 3000 illustrations. 8 1/2" x 11". Soft bound ........... $39.95
---

Order This Book

Next

Book Index

Back to Homepage
---