Jon Zimmers Antique Tools - Books

Order This Book

Book Index

Back to Homepage
---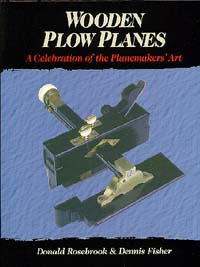 Wooden Plow Planes
A Celebration of the Planemaker's Art,
By Don Rosebrook & Dennis Fisher
Here is a great new book on wooden plow planes.
This book is the culmination of over two years of extensive research and serves as a excellent reference source for collectors and dealers, as well as industrial historians and curators. It features, among other things
Galleries of nuts and fence moldings for identification purposes
Special sections on the Greenfield Tool Company, the Ohio Tool Company and planemaking at the New York Auburn Prison
A special section on a modern planemaker and his work
Many interesting examples of craftsman-made planes
Finely detailed examples of the use of ivory tips and nuts, silver trim,and the use of woods such as rosewood, ebony and boxwood.
Approximately 200 beautifully photographed planes illuminate, in full color, the extroadinarily high level of craftsmanship involved in the planes' fabrication, showing in clear and close-up detail inlays of silver, bone, ivory and rare woods. Rosebrook provides full descriptions of all the planes contained in the book. Numerous one-of-a-kind examples are also highlighted and displayed. Super detail pictures show the characteristic features of the specific makers. Thousands of color illustrations. 8 1/2" x11", 322 pp. hard-cover ......sale ... $50.00